Assessments that meet all development stakeholders' needs
Practical
Assessments produce results that are easy to action and implement.
Easy to deploy
Leveraging technology, assessments can be launched with short lead times and results are delivered immediately.
Multiple result views
Different result views are created for participants, their managers and HR to meet their unique needs.
Our library of assessments
Assessments that can be deployed across leaders and individual contributors.
Objective leadership skills assessment
We built the world's first objective leadership skills assessment in 2013 with Vale Professor E James Kehoe and a team of Organisational Psychologists from UNSW.
Why? We found training everyone in everything was not an effective use of people's time or a business's resources.
Our skills assessment:
assesses a universal set of fundamental leadership skills against our benchmarks (over 36,800 data points to date)
generates individual development priorities to be worked through.

Leadership effectiveness assessment
As we all know, developing the underlying skills is only one part of developing leaders.
Our 180 degree feedback assessment:
surveys the participant's direct reports and direct leader
generates behavioural development priorities to be worked through
tracks and measures improvements over time.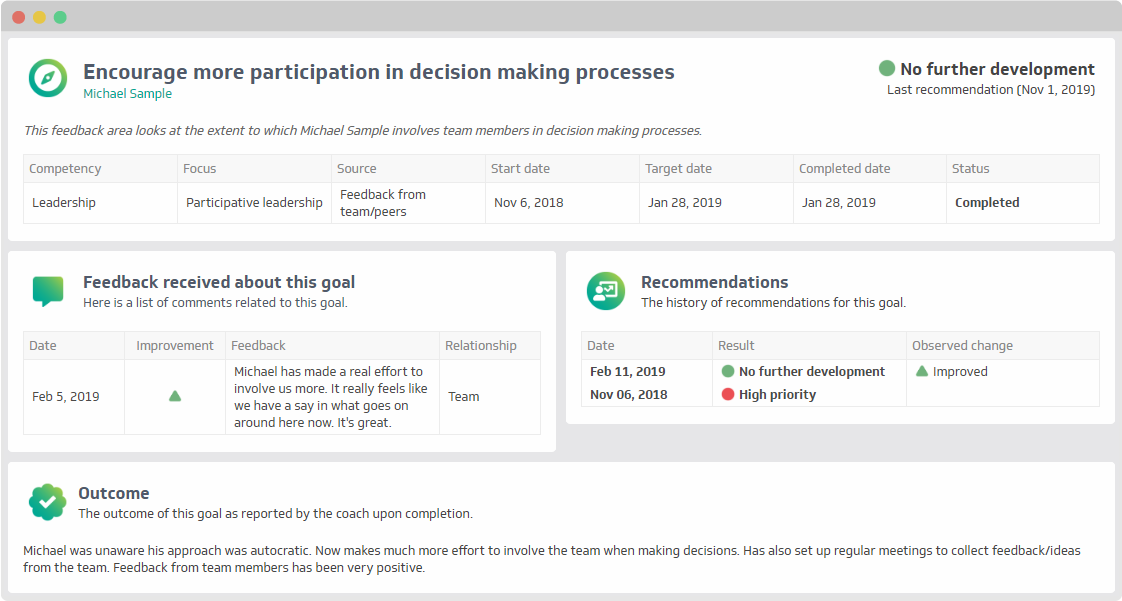 You've heard it here first: people love DISC reports. They are a great conversation starter for individual differences in the workplace.
We have our own customised and accredited DISC reports that are designed to give respondents a clear picture of:
how individual styles can impact on workplace behaviours
how individual styles impact on motivation
how individual styles react under stress.
We can also give you access to run your own DISC reports on demand.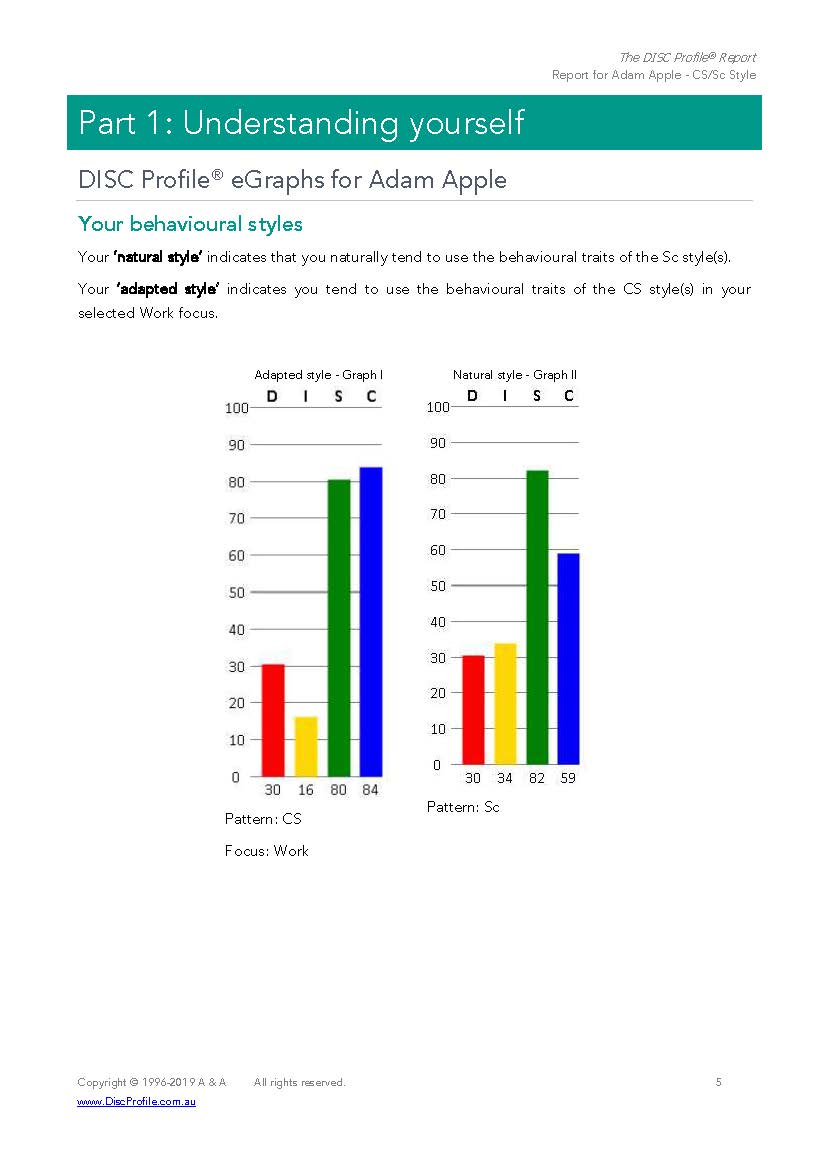 Understanding your default decision-making style/s is fundamental to producing effective decisions.
Our decision-making styles assessment looks at:
how you tend to make decisions
how that is linked to your personality traits
how that might affect your decision-making ability.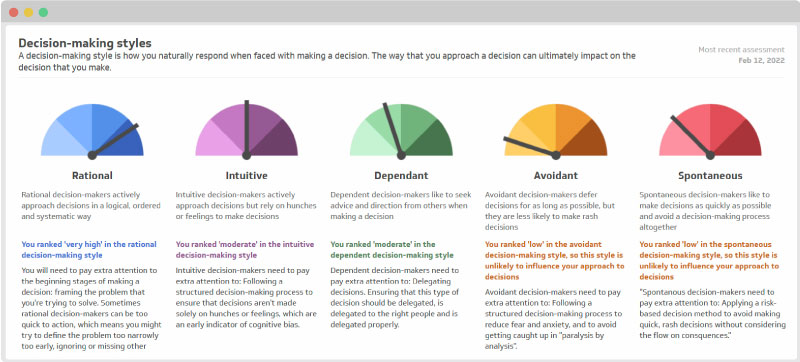 Cognitive bias is a mental shortcut that negatively impacts on humans' ability to make effective decisions. One of the keys to overcoming cognitive bias is practising identifying cognitive bias in yourself and others.
Our decision bias assessment:
assesses individuals' proneness to five of the most catastrophic decision biases
tracks and measures improvement in proneness to bias over time.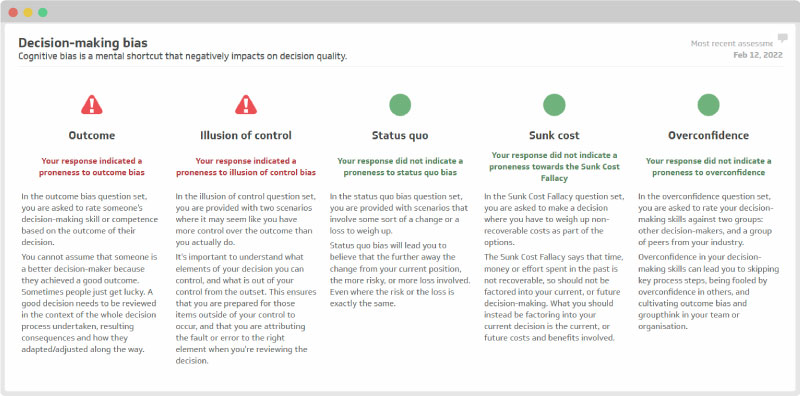 A lesser known but extremely important element of decision-making at work is cultural background.
Our decision-making culture assessment:
assesses where an individual's cultural background sits on a scale of individualism and collectivism
shows how their positioning might play into how they show up or participate in decision-making processes at work.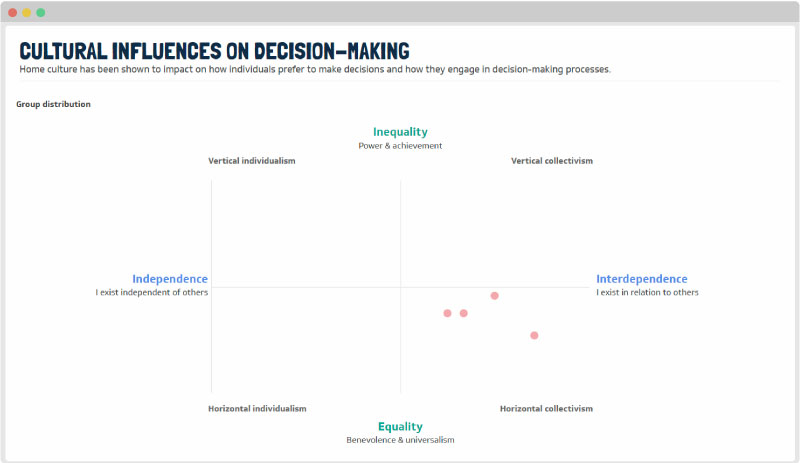 Open-mindedness in decision-making
One of the key factors involved in effective decision-making is remaining open-minded to new information, and open to changing your mind.
As part of our actively open-minded thinking assessment, we assess:
what beliefs could be holding individuals back from effective decision-making
where individuals sit on a scale of open-mindedness.

Testimonials
I've been working with Leadership Success for just over 4 years, through my role as Learning & Development Specialist at Bank of us. The team at Leadership Success are amazing to work with, from onboarding our leaders, to coaching them through their leadership journey. The knowledge assessment tool works hand in hand with a 360-degree effectiveness survey, which provides participants with an understanding of not only the knowledge of leadership, but the actual "doing"!

To date, we've put over 30 of our established leaders and emerging leaders through this program, and our internal feedback surveys are always full of praise and appreciation of the program. The results we're seeing in our leadership development is fantastic, with leaders improving the specific areas that help them grow their leadership. My favourite thing about Leadership Success is that the learning journey is tailored to each participant, and in a smaller organisation such as ours, this fits perfectly! I look forward to continuing our relationship with Leadership Success

Simone Boatwright
Learning & Development Specialist