Deloitte's Global Human Capital Trends report shows that leaders of today are facing new and unique challenges. We look at the key issues that leaders are facing and what this means for leadership capabilities in 2019.
Deloitte Insights have released the 2019 Global Human Capital Trends report, highlighting the most important issues that HR are facing across the globe.
The annual report, based on detailed surveys with 10,000+ respondents across 119 countries, showed that 80 percent of respondents rated leadership as "important" or "very important" and believe that leaders today face unique and new requirements.
We look at the key issues that organisations and their leaders are facing and how these issues are driving the demand for new leadership capabilities.
Key issues
Social and environmental pressures
Social issues like inequality and diversity are a huge concern for organisations across the globe. So to is climate change and the need to operate in a sustainable way that minimises impact on the environment.
The 2018 edition of the Human Capital Trends report highlighted the rise of the social enterprise - organisations whose mission combines the need to generate profit with the need to respect and support its environment. In 2019 these pressures have become more pronounced.
When CEOs were asked to rate the most important measures of success in 2019, societal impact (e.g. diversity, inequality and environment), was number one with 34% of respondents ranking it as their leading measure of success. Only 17% ranked financial performance as their leading measure of performance. CEOs are feeling the pressure to act.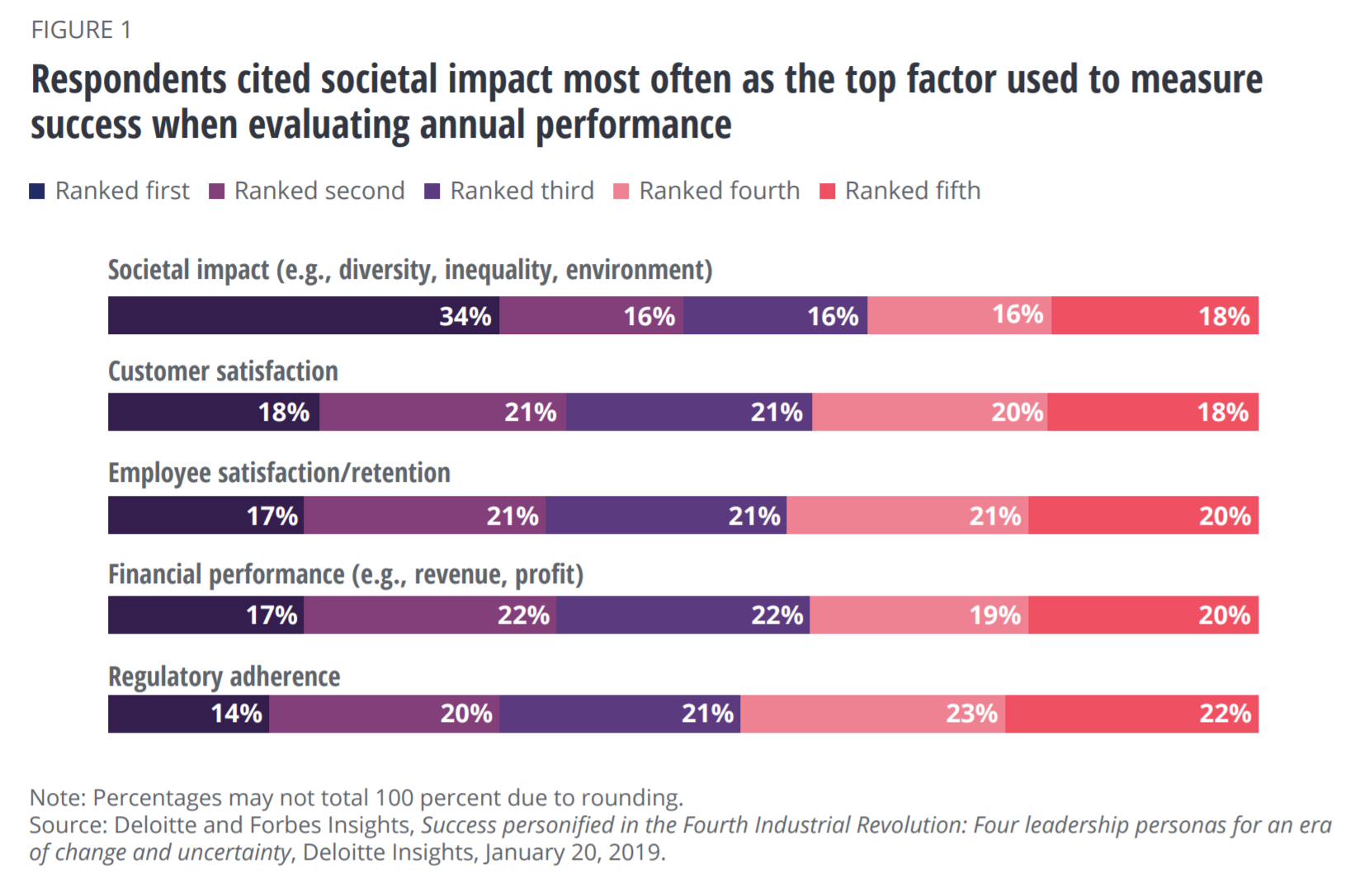 Technological change
Steps forward in AI and automation are having a big impact on jobs. The report highlighted that over the next 3 years, 38 percent of respondents expect to make jobs redundant due to automation and will transform many more.
This statistic is echoed by the World Economic Forum who reports that 54% percent of all employees will require significant reskilling and upskilling in the next three years.
As technology relentlessly advances, it is imperative that leaders understand and can leverage new technologies and are able to manage in a rapidly changing work environment.
Flattened organisational structures
In the 2017 edition of the Human Capital Trends report, the top concern was the organisation of the future and the race to replace traditional hierarchies with networks of teams.
Although this structural change has not been as rapid and widespread as predicted, over the last few years we have seen some high-profile examples of it. One of the most notable is ANZ bank who have shifted 9000 workers onto agile teams and now handle the same workload with up to 30 percent less staff.
In 2019, this trend continues with 31% of respondents saying that they now operate mostly or almost wholly in teams. The challenge is, as Deloitte notes, "many leaders do not know how to operate in teams and have not yet adopted the team model of engaging with each other."
Leadership capabilities in 2019
In this year's survey, 80% of respondents expressed the belief that leadership today has unique and new requirements that are important to their organisation's success. As noted in the report, "topics such as inclusion, fairness, social responsibility, understanding the role of automation and leading in a network were not part of the leadership manifesto a decade ago".
While organisation's expect new capabilities, leadership development is not keeping pace. Only 4 out of 10 organisations said they were ready to meet their leadership requirements.
So what capabilities does the leader of today need?
81% of respondents identified the ability to lead through more complexity and ambiguity, citing the need to manage new technologies and the increasing pace of change as key drivers of this capability.
65% percent of respondents identified the ability to lead through influence - a reflection of the shift towards flat organisational structures where leaders possess less formal authority. With less authority, leaders must rely on their ability to influence others to get things done.
50% identified the ability to manage on a remote basis. With almost 70% of Australian employees working remotely each week, it is becoming increasingly important for leaders to effectively manage people and tasks without being in the same physical space.
47% identified the ability to manage a workforce with a combination of humans and machines, reflecting the growing uncertainty about how leaders will manage in a world of AI and robotics.
44% identified the ability to lead more quickly as a key capability, again reflecting changing environment that today's leaders operate in.