Change resistance is one of the biggest causes of change failure. Learn how to build change readiness and overcome change resistance.
Key takeaways from this article
Change initiatives are difficult and often fail due to change resistance.
Building change readiness is a vital first step for change success.
When it comes to change, preparing people ahead of time is far more effective than dealing with resistance during or post-implementation.
There are 5 key steps that you need to go through to get your people, managers and organisation ready for a change initiative.
Failing to prepare is preparing to fail
Successfully implementing a change initiative is one of the most complex and difficult tasks an organisation can undertake. There are normally a large number of moving parts, people and processes involved. Often times, HR professionals are expected to contribute to the change initiative by introducing a leadership development plan, designed to bring those affected by the change along willingly.
There is a frequently cited figure of 70%1 when talking about the failure rates of change programs in organisations.
The high rate of failure cited in research indicates that change programs are more likely to fail than to succeed... If these numbers are even close to the mark, then a clear strategy for avoiding failure is essential!
70% of change initiatives fail
Going back over 20 years, John Kotter released his widely read and acclaimed book Leading Change. His research revealed that 7 in 10 change programs fail1. Fast forward through the intervening years and despite the wealth of books and journal articles on the subject, that number is still widely quoted.
In 2008, McKinsey surveyed nearly 3,200 executives and found a similar result Their figures put the failure rate at 66%2 - very similar to Kotter's original estimate. In 2011, the failure rate of 70% was questioned by academics , with their ultimate conclusion being it's very hard to measure accurately3. They did not, however, produce an alternative estimate.
In practical terms, whether the number is correct or not is irrelevant. All that really matters is making your change initiative a success. There is plenty of reliable information to tell us about the common causes of success or failure of attempts at change.
Planning a successful change initiative
Research4 has identified the following principle for successfully achieving buy-in to an organisational change:
Change readiness is down to each individual's cognitive evaluation of the initiative. When people think about the change, do they see it as a positive or a negative? It is this that leads to personal support or resistance

Successful organisational change is reliant on generating employee support and enthusiasm for the change, rather than merely overcoming resistance.

Building change-readiness should be the first step of the change process. If done properly, employees will be more willing to support and ultimately adopt the change.
Change readiness strategy must bring in all stakeholders - both leaders and employees
Research by McKinsey and Company, 20082 identifies that the two biggest sources of failure are employee resistance to change, and management behaviour not supporting the change.
Further research4 on the subject from 2009 also identifies that managers are just as prone to resistance as other employees.
...The logical conclusion here is that the two sources of failure identified - employees and managers - are really just two sides of the same coin; individual resistance to change.
Therefore, building individual change readiness as the first step in any program of organisational change will maximise your chances of success. From a practical standpoint, it's also an easier and less stressful pathway than trying to deal with resistance during or after implementation of the change.
Your 5-step action plan for creating successful change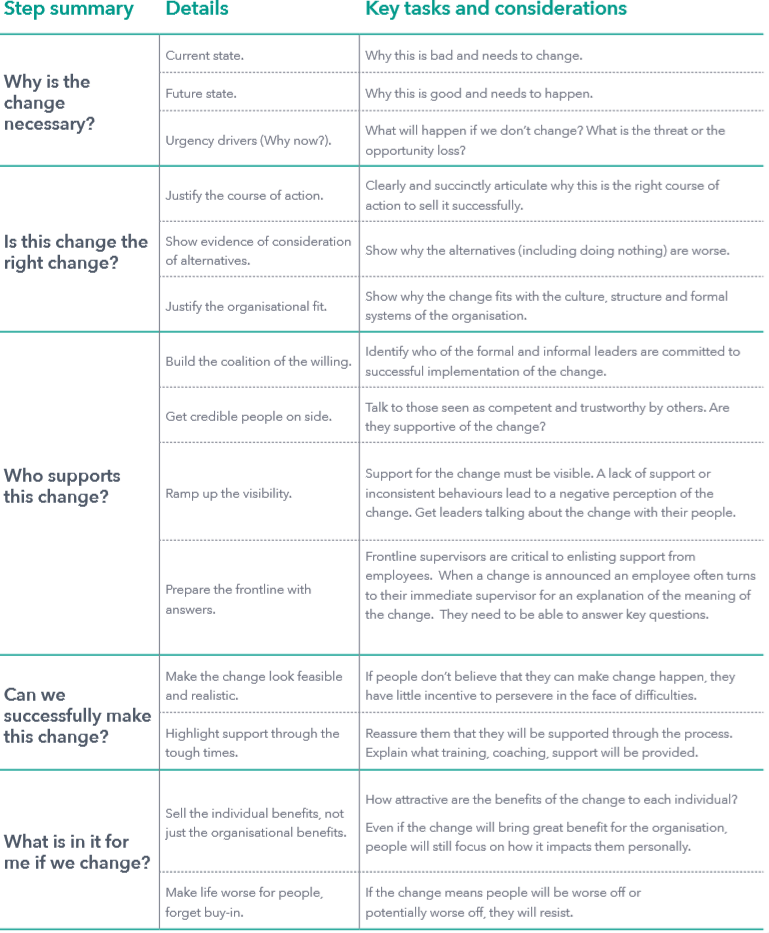 Learn more about change management
---
If your need help with change management in your organisation, Leadership Success has a number of assessments which can help with change leadership.
You can also learn more on which leadership assessment tools can help encourage change leadership.
---
References: Article is built on the following research
John P. Kotter (1996). "Leading Change: An Action Plan from the World's Foremost Expert on Business Leadership". Harvard Business Press.
McKinsey and Company (2008). "Quarterly Transformation Executive Survey". McKinsey and Company.
Hughes, M. (Volume 11, 2011 Issue 4). "Do 70 per cent of all organizational change initiatives really fail?" Journal of Change Management , 451-464.
Dennis R. Self (2009), "Enhancing the success of organizational change: Matching readiness strategies with sources of resistance." Leadership and Organization Development Journal 30, 167–182.