It's pretty rare that things work exactly to plan with no hiccups or setbacks along the way so it's good to have a plan in case that happens. Contingency planning is about identifying what might go wrong (e.g. equipment failures, supply shortages, cost increases, software malfunctions etc.) and planning for it.
It's basically having a plan B (and maybe a plan C) in case things change - the last thing you want is to have your progress derailed by something that was within your control to manage.
Time and cost overruns
In the task planning and resource estimation sections we suggested adding an additional 20% to your time estimates and your equipment/materials estimates. This gives you a little room to move in both time and cost. You can obviously adjust that 20% up or down based on what is appropriate for your plan.
In the best case scenario, everything will be delivered on time and within budget, but it's worth factoring in a worst case scenario(s) so if things take more time or cost a bit extra, you've already planned for it.
Risks
Risks are basically anything that could go wrong that could prevent you from achieving your goal. It's important that you are aware of the risks that affect you and have an appropriate method for treating those risks.
Identify - the first stage is to identify all of the known operational risks. This could be anything from equipment breakdowns, safety issues (stop work orders), supply shortages, hardware or software malfunctions; anything that would stop you and your team from getting the work completed.
Assess - the risks you have identified then need to be assessed for their likeliness to occur and the severity of impact if they did occur. A risk prioritisation matrix (below) is a very useful tool for this.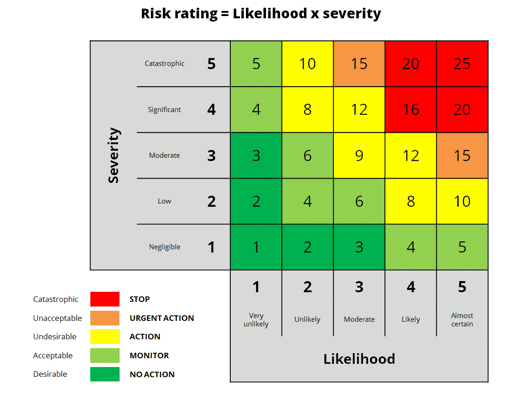 Evaluate (prioritise) - now you need to evaluate the risks and prioritise them by potential impact. The more serious the impact of the risk, the more of a priority it becomes.
Treat - the last stage is to determine the appropriate treatment for the risk. There are several options for treating a risk as discussed below.
Treating risks
Retain/accept the risk - if, after controls are put in place, the remaining risk is deemed acceptable to the organisation, the risk can be retained. However, plans should be put in place to manage/fund the consequences of the risk should it occur.
Reduce the likelihood of the risk occurring – this might include new policies and procedures, training staff, preventative maintenance on machinery, introducing certain contract conditions, testing, quality assurance programs etc.
Reduce the consequences of the risk occurring - through contingency planning, contract conditions, disaster recovery & business continuity plans, off-site back-up, public relations, emergency procedures and staff training etc.
Transfer the risk - this involves another party bearing or sharing some part of the risk by the use of contracts, insurance, outsourcing, joint ventures or partnerships etc.
Avoid the risk - decide not to proceed with the activity likely to generate the risk.